Tarot by Christiana Weekly Newsletter 1/1/2014
Happy New Year!
As we say goodbye to the holiday season and to 2013, let's have a moment of gratitude for the blessings that were ours this past year.
As we look toward a New Year, let's try a different tactic than usual. Rather than making resolutions at which we inevitably fail, let's focus instead on manifestation.
What do you want to manifest in 2014? Exactly one year from now, what would you like to have accomplished? What would you like your life to look like? Are there difficult situations from which you would like to be released?
Use the power of this special time of new beginnings. Feel empowered to manifest for yourself the life you want.
Meditate on the changes you want to make. Visualize yourself making those changes. Motivate yourself to actually do what you need to do. Push past your fears and out of your comfort zone into the place where you are able to create your most joyful life in 2014.
New Year, New Moon
January First is particularly auspicious this year because it falls on the new moon in Capricorn.
In magickal traditions the new moon is considered a time to begin new things, to plant new seeds. The new moon in Capricorn is particularly good for building a new foundation that will sustain you throughout the year.
The first day of the new calendar year holds no special spiritual significance except for this. All over the world, this date is celebrated. People sing and dance and kiss at midnight. People look to the new year with hope as they lay to rest the old year. That global energy of celebration and hope carries with it a great deal of positive energy.
That New Year energy combined with the energy of the new moon in Capricorn creates a very potent time for us to take concrete steps toward our goals as we begin 2014.
The Week in Review
This week on my Tarot Trends personal blog I wrote a post about being a full-time reader for many years, called "I am your Grandmother's Tarot Reader."
As I always do at this time of year, I published my predictions for 2014 on my personal blog, Tarot Trends. This is an annual tradition for many readers. This year I also wrote about my process for making the predictions on our Tarot Topics Community Blog.
Also on the Community Blog Joanne Matthew shared two seasonal posts, one about the Major Arcana at a New Year's Eve Party, and other about tarot deck collecting, "I Saw Three Decks."
On my Dark Forest blog I posted a review of one of my favorite restaurants on the Hollywood Broadwalk.
From Around the Web
Did you know that Isaac Asimov in 1964 made a series of fifty-year predictions, for 2014? Here's an article on Treehugger discussing these amazing predictions.
From Rebelle Society, here's some New Year's wisdom, "30 Questions to Ask Yourself before you Die."
For the many of us who are readers and writers, here are some interesting predictions about the publishing industry for 2014.
Three Ways to do a New Year's Reading
Whether you are a beginning tarot student or a seasoned professional, now is a great time to perform divination to give you information about 2014. Here are three simple ways to do just that.
1. A Three-Card New Year Spread
Lay out three cards. The first card represents something you learned in 2013. The second card represents the overall energy of 2014 for you. The third card should be read as advice for 2014.
2. A Year-Long Spread
Lay out one card for each month, or each season, or each turn of the Wheel of the Year. Let each card give information about the month, season or turn on which it fell.
3. A One-Card Reading
Simply ask "What do I need to know about 2014?" and pull one card. You will be surprised at how much information you may get from a single card!
Make sure you write down the cards you get and how you interpret them. At the end of 2014 it will be interesting to revisit your New Year reading.
What's Up at the Psychic Café?
I was so honored to have Lynn Merritt of Mystical Horizons in Connecticut as my guest on the December 29th Psychic Café. Together we read for callers and discussed tarot, readings, and what it is to have run a heritage New Age shop for 24 years.
You can enjoy the show in archive on the Tarot Topics news site.
My first guest of 2014 will be Maggie Lukowski on January 5th. Maggie is a tarot reader, Reiki Master and host of the Attune Radio show "Personal Empowerment for Your Soul" on BlogTalkRadio.
We'll talk about New Year predictions and resolutions, and do some New Year readings as well!
Visit the Show Info page, and don't forget to like Christiana's Psychic Café on Facebook!
Learning Tarot
Death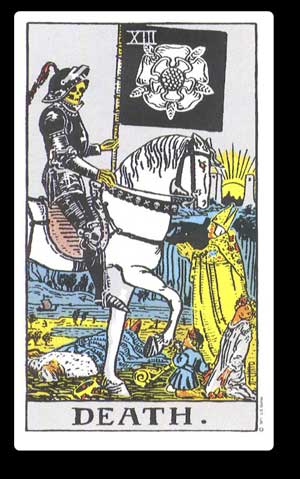 Death is Major Arcana card thirteen. It is really amazing that this card fell on the first day of 2014, because the Death card is about change and transformation, just as we see the changing of the calendar.
Many people fear Major Arcana thirteen because of its name, and because of its somewhat disturbing image.
The truth is this. Death does not usually discuss or predict a physical death. Death comes up in a reading to advise us to make a change, or to let us know about a change that is on its way.
Many time the change to which the Death card refers is a positive one, like marriage, birth, healing or a new career.
The thing to remember is that change – even welcome change – is difficult. The Death card reminds us of the stress that comes from change. Death reminds us that change is ever-present and unavoidable.
When you see Death in a reading, don't let it frighten you. Remember that change is the only constant in life, and many changes bring us to a better place. Pay special attention to the cards that surround Death to give you a sense of the type of changes and the feeling around them.
Death is related to the element of Water, which rules emotion, and to the astrological sign of Scorpio.
The spiritual lesson we learn from this card is to be willing to release the old and embrace the new. This is what allows us to grow, and to transform.
Next week we will explore Major Arcana 14, Temperance.
Your One-Card Weekly Reading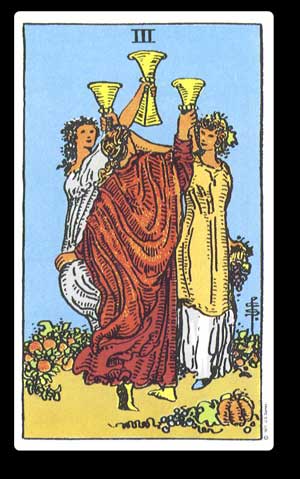 Before I tell you what the one-card reading for the week is, I want to remind you that I really do draw these cards at random!
Your one-card reading for the first week of January, 2014 is the Three of Cups! This is the "party card," appropriate to describe New Year's Eve celebrations, family gatherings, music and dancing – all the activities we associate with this time of year!
The Three of Cups reminds us of the importance of community, creativity and celebration. That this card comes up for this week might also be seen as a reminder to carry that spirit of celebration throughout the year.
The Three of Cups does encourage us to be playful and have fun, but it also warns us of the perils of partying too much. Sometimes having too much fun is as much of a problem as not having enough fun!
This week, let the Three of Cups help you celebrate your life and look to 2014 with anticipation!
Upcoming Events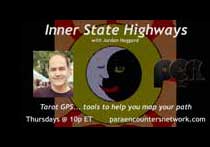 Thursday, January 2, 10 pm
Inner State Highways
I am happy to announce I will be a guest on Inner State Highways, Jordan Hoggard's show on the Para Encounters Network. It will be a special New Year episode, complete with psychic readings!
Sunday, January 5, 9 pm
Christiana's Psychic Café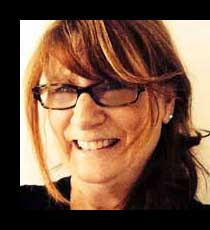 Maggie Lukowski will be my guest. Maggie is a tarot reader and the host of Attune Radio show "Personal Empowerment for your Soul." We'll talk about how tarot empowers us, and what personal empowerment really means. For more information visit the Show Info page.
Monday, January 6, 7 pm
Free Webinar
Candle Magick
Join us for a fascinating exploration into the world of Candle Magick!

For centuries, candles have been used by many cultures to enhance prayer and meditation. Today, many people discover amazing results when they use candles to manifest their intentions. Whatever positive improvement you seek in your life, a simple candle can help you realize your greatest desires.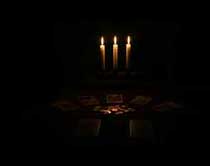 In this workshop, you will learn about magickal traditions and theories. You will learn simple ways of preparing and burning candles to create healing, prosperity and other positive outcomes. Candle magick utilizes colors, herbs, flowers and symbols to easily help you manifest your highest good. You will also learn ways to use Tarot cards and other images to strengthen the energy of your intentions.

Whether you desire healing, love, clarity or a new job, candles can help make it happen!
For log-in, visit the event listing on the Celebrate Spiritual Growth website.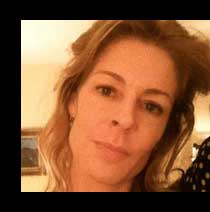 Sunday, January 12, 9 pm
Christiana's Psychic Café
Join us as we enjoy an encore presentation of our show from March 3, 2013, featuring Shamanic Astrologer Aliandra Star.
For more information visit the Show Info page.
Tuesday, January 14, 7 pm
Free Webinar
Global Tarot Circle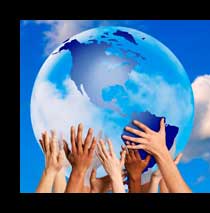 Anyone with an interest in tarot is welcome to join us online or by phone as we share readings, ideas and information in an informal exploration of tarot.
For log-in information visit the event listing on the Tarot Circle website.
Tarot by Christiana Gaudet
Private readings and instruction are available by appointment.
Tarot parties at your home or office are available throughout Florida. Call 561-655-1160 for more information or to schedule your event.
Agent inquiries are welcome.