Tarot by Christiana Weekly Newsletter August 15, 2012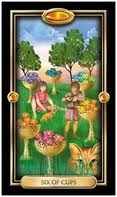 Hello friends!
Thanks so much to those of you who have already started to read Tarot Tour Guide! I've been getting emails every day in support of the book. I appreciate this so much!
I had fun last week speaking to the folks at the Coast-to-Coast Chat Group in Fort Lauderdale.  It was great to get a speaking invitation after having only lived in the area for less than a week!
We have two free webinars this week, so you have no excuse not to enjoy some tarot learning and fellowship.
Events This Week
Free Webinar
The Four Elements and the Minor Arcana
Thursday, August 16, 2012
7 pm Eastern
Join us as we explore the influence of the Four Elements in understanding and interpreting the Minor Arcana of the tarot. More information and log in instructions here.
Free Webinar
Global Tarot Circle
Monday, August 20, 2012
7 pm Eastern
Join us from your computer, tablet, smartphone or telephone as we gather together to contemplate the tarot. This month our topic will be "Tarot Speaks of the Mundane." How do different cards and card combinations speak of daily life? Which cards describe specific occurrences? Bring your ideas and questions and join us for a lively conversation.
Tarot Circle is open to anyone with an interest in tarot, from beginners to professionals. Log in and more info here.
Your One-Card Reading for the Week
This week's One-Card Reading is the Six of Cups.
The Six of Cups reminds you to nurture your inner child. Be playful, have fun, be creative and appreciate the natural world around you.
The Six of Cups encourages you to reach out to old friends and family members and re-establish connections with people from your past. Share happy memories, and celebrate past accomplishments.
On a more serious note, this card invites you to consider the patterns and habits in your life that have been with you for a long time. Now is the time to decide what is working for you, and what isn't.
This Week's Special Read
Check out this week's Tarot Translation Group! Read my post, and follow my link to find the other reader's posts!
Remember I am available for readings and parties using Skype! Phone readings are available, as well as house calls and parties in South Florida! Just call me at 561-655-1160.
Have a Great Week!
Christiana