Tarot by Christiana Weekly Newsletter 12/19/2012
Tarot by Christiana Newsletter                                                                      12/19/2012
While December 21 will not be the end of the world, many people believe the end of the Mayan calendar represents a spiritual shift for the planet. Perhaps we are evolving and, as some people say, raising our planetary vibration. We need it now more than ever.
Traditionally the Winter Solstice is celebrated as the return of the sun. We celebrate Christmas at this time of the year to coincide with the Winter Solstice. Symbolically, all the winter holidays seem to share a common theme: bringing light to the world.
There are many ways in which we all need light in our lives right now.  However you celebrate this sacred time of year, my family and I wish you abundant light, healing and happiness, now and in the year to come.
Introducing "Christiana's Psychic Café" on PEN
Last week I was a guest on an internet TV show. This week I will be launching my own internet TV show. It's funny how things like that happen.
I certainly have some broadcast experience. I have been the Resident Psychic of many broadcast radio shows. I was even a morning show co-host on three different FM stations.
I've done reading on network television and been featured on Fox News and Inside Edition.
I've been on other internet TV and radio shows, too.
This is the first time that I have ever had my own show.
The network that is featuring me is PEN, the Paraencounters Network.  Watching the shows there is as easy as browsing to the website.  You can even participate in the chat room! Try that with your broadcast TV!
My show, "Christiana's Psychic Café," will be a lively show with a variety of segments.  I will have short guest segments, and segments like "Tarot Talk," "Meditation Moment" and "Magick and Mayhem."
I will invite viewers to chat in, call in and Skype in to participate in our discussions. I will also be doing a few psychic readings for viewers each week.
The hour-long show will air live every Sunday at 9 pm EST.  It will be available worldwide at that time, and then will be archived and available on YouTube.
This Sunday, December 23 will be our first show. We will have a musical guest, Robin Renee, who will play her "Yule Song," a parody of Adam Sandler's "Hanukah Song."
We'll talk about holiday traditions, and about the world that didn't end. In our Tarot Talk segment we'll talk about wonderful tarot decks that contain a single irritating card. And of course I'll be taking your calls and reading for you!
Please don't miss the debut of this show, and please do call in to join the discussion!
There will always be a seat for you at Christiana's Psychic Café!
December Global Tarot Circle Recap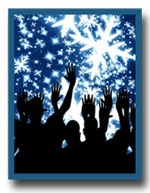 Global Tarot Circle met on Thursday, December 13, 2012. We started with a group reading for one of our members.
Our "learning segment" was a short workshop on the numbers of tarot, especially the pips. Each member found a series of three consecutive cards in the Minor Arcana and told the story they saw within those three cards. We discussed keywords for each number, and discussed how the Minor Arcana cards fit those keywords.
Next we looked at ways the tarot could help us choose gifts for those hard-to-shop-for people. We worked together with the tarot to help members of the group decide on the perfect gifts. It is amazing how often a tarot card can inspire something that evokes a statement like "Hey, that's a really good idea!"
Our final exercise was a gift-giving ritual. We each cognitively chose cards to symbolically give to individual members. These cards both expressed our wishes for each person, but also carried the energy to manifest those wishes and turn them into reality.
Traditionally Tarot Circle has always done something fun to commemorate the holidays. This on-line version of Tarot Circle was just as fun and meaningful as an in-person celebration, minus the amazing baked goodies.
Our next Global Tarot Circle we be Thursday, January 17, 2013 at 7:00 pm EST.   Everyone with an interest in tarot is welcome to join!
Another Great Review for Fortune Stellar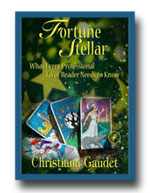 I am excited to let you know that my first book, Fortune Stellar, has received another great review, this time on the prestigious review site Facing North.
Reviewer Jessica Elizabeth highly recommends Fortune Stellar not only to serious tarotists, but also to anyone with a metaphysical practice.
For those who aren't familiar with my first book, Fortune Stellar: What Every Professional Tarot Reader Needs to Know is a book to help tarot readers and other metaphysical professional create businesses that are as unique as they are. Read about it and read some other reviews on the Fortune Stellar website.
Fortune Stellar is available in paperback and digital formats.
Your One-Card Weekly Reading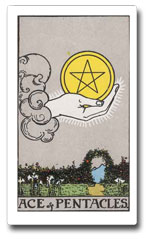 Your one-card weekly reading for this week is the Ace of Pentacles.
The Ace of Pentacles holds the promise of something new. It could be a new job or new money. It could be a new commitment to physical health and well-being. It could even be a new home.
The Ace of Pentacles reminds you to keep your feet on the ground. It encourages you to be stable and steadfast. It assures you of continued prosperity and well-being.
Read my  New Blog on PaganSquare!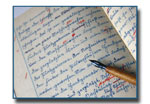 I am happy to report I have a new gig as a featured blogger on PaganSquare. My blog is called "78 Magickal Tools" and will be a regular discussion about using tarot in magickal ways.
My inaugural post is called "Three Ways to Make Magick with the Four Aces." Please check it out, leave a comment and check back often for new posts!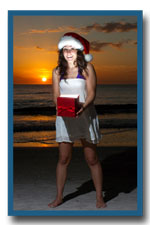 This week on Tarot Trends Christiana discusses her understanding of Higher Power. Read her thoughtful post entitled Faith.
On Tarot Topics Community Blog Robin Renee shares her lyrics to a parody of Adam Sandler's Hanukah Song. Check out the Yule Song lyrics, and tune in to Christiana's Psychic Café on Sunday night to hear Robin sing the song!
Joanne Matthew has created some Christmas parodies as well. Check out her very funny Santa Gets a Tarot Reading, to the tune of "I saw Mama Kissing Santa Claus." 
Joanne also offers us a Yule Song sung to the tune of "Jingle Bells."
The creativity that we are seeing on the community blog is nothing short of amazing!
Also on the community blog this week we have a bit of tarot instruction from Christiana entitled Looking for the Helpers.
On The Dark Forest this week Christiana has shared her thoughts about the holiday season. Read Our Holiday Symbols Could Unite Us.
Sunday, December 23, 9:00 EST
Christiana's Psychic Café
Don't miss Christiana's debut! This will be the first episode of Christiana's internet TV show on PEN.  Enjoy musical guest Robin Renee, Tarot Talk and free psychic readings with Christiana. Just browse to PEN and get ready to enjoy a great new show! Please call in to join the discussion or to get a reading with Christiana.
Sunday, December 30, 4:00 pm EST
Psychic Hour with Christiana on Webex
Join us for an hour of free psychic readings with Christiana Gaudet, Tarot Grandmaster and author.
In the on-line meeting room, Christiana will give short readings to all attendees, as time permits. You will enjoy being part of the energy, hearing Christiana's readings and receiving an insightful reading for yourself.
Don't miss this exciting online event! Find details and log in info on the event listing on the Celebrate Spiritual Growth website.
Sunday December 30, 9:00 pm EST
Christiana's Psychic Café
On the show this week Christiana will introduce you to a professional hula-hooper who performs slam poetry while hooping. Christiana will share her psychic predictions for 2013 and take your calls for free psychic readings. Browse to PEN to join the fun!
Sunday, January 6, 2:00 pm EST
2013 Psychic Gallery with Christiana at Pearl Rauberts' in Loxahatchee
What does 2013 have in store for you?
Celebrate the New Year with Psychic Tarot Grandmaster and author Christiana Gaudet and find out!
Christiana will return to Pearl Rauberts' in Loxahatchee for a New Year Psychic Gallery. Within sacred space, Christiana will reveal information for each person. You will have the opportunity to ask questions and receive guidance about all aspects of your life. You may even receive a message from a loved one in Spirit!
Those who have attended galleries with Christiana before describe them as inspiring, entertaining and amazing. Each person's reading is specific and insightful.
Don't miss this opportunity to receive the information you need to make 2013 the best year ever! Seating is limited. Email Pearl at pearlrauberts@hotmail.com to reserve your spot. For more information visit the event listing on the Celebrate Spiritual Growth website.
Sunday, January 6, 9 pm EST
Christiana 's Psychic Café
On the show this week Christiana welcomes musical guests Mad happy, shares some tarot knowledge and takes your calls for free psychic readings. Browse to PEN to watch the show!
Tuesday, January 8, 7:00 pm EST
Candle Magick Webinar
Join Christiana for a free on-line workshop! 
For centuries, candles have been used by many cultures to enhance prayer and meditation. Today, many people discover amazing results when they use candles to manifest their intentions. Whatever positive improvement you seek in your life, a simple candle can help you realize your greatest desires.
In this workshop, you will learn about magickal traditions and theories. You will learn simple ways of preparing and burning candles to create healing, prosperity and other positive outcomes. Candle magick utilizes colors, herbs, flowers and symbols to easily help you manifest your highest good. You will also learn ways to use Tarot cards and other images to strengthen the energy of your intentions.
Whether you desire healing, love, clarity or a new job, candles can help make it happen! To join the webinar, find your log- in information on the event listing of the Celebrate Spiritual Growth website.
561-655-1160 | 866-99TAROT (866-998-2768)