Tarot by Christiana Weekly Newsletter 7/24/2013
Tarot by Christiana Newsletter
          July 24, 2013      
Happiness
Happiness is something we all want, but few of us can describe what happiness is.
The Declaration of Independence calls the pursuit of happiness an unalienable right. There is a difference between happiness and the pursuit of happiness.  We have no "right to happiness," only the right to pursue it.
How do we pursue happiness? How do we know what will make us happy?
Eleanor Roosevelt said that happiness is not a goal; it's a by-product of a life well-lived.
Sometimes it seems that we find happiness in simple moments. If we have the ability to appreciate little things in each moment, we will be happy.
Perhaps if we focus on compassion and gratitude happiness will naturally follow.
What is your recipe for happiness?
A Happiness Tarot Reading
This is a one-card reading that is deceptively simple.
Ask the question "What do I need to do to bring more happiness into my life?" and pull a single card.
Really focus on the card and think about what it could mean to you in the context of the question.
See how much helpful information you can derive from this one card.
What does it tell you to do? What does it caution you against?
How does this card help you as you consider proactive steps to become happier?
Christiana in Orlando
I am always available for parties and events in the Orlando area. However, I will be staying in Orlando from September 17th to the 22nd. During that time parties, classes and housecalls will be available at special rates. Call me at 561-655-1160 to book yours!
The Week in Review
This week we have brilliant addition to Linda Moore's "Tarot in my Life" blog on the Tarot Topics Community Blog. Read Tarot in my Life: New Growth and Celebrations. Linda reads tarot and does yoga as she and her partner travel the Caribbean on the sailboat Troubadour.
Joanne Matthew has contributed another thoughtful and creative post on the Community Blog this week. Joanne is well-known for her personification of the Major Arcana characters. Here, the Major Arcana console Justice and Judgment.
I started a new series on the Tarot Topics Community Blog this week. It's a video blog called "Answers to your Questions about Tarot." If you have a question about tarot you can email me and I will make a video answer! Check out my first video blog about which way the cards should face!
On my personal blog, Tarot Trends, I wrote about the symbols we use in our culture and how they relate to tarot. Read Symbols in Tarot and in Life.
On my Dark Forest Blog I wrote about a pet peeve – erroneous Facebook memes! Read True, Kind and Necessary.
From Around the Web
The American Tarot Association's awesome monthly newsletter, Reflections is now available for you to read.
I really enjoyed a blog post by Charlotte Henley Babb called Seven Crones Cackling.
I love a good quiz, and enjoyed this simple quiz about tarot. See how well you do!
A Happiness Meditation
Here is a quick visualization that can bring you happiness quickly and effectively.
As you breathe, think about the energy of happiness.  What color is it? What shape is it?
Picture that colored shape floating in front of you.
Now think about the simple things that make you happy. Think about a favorite place, a favorite story, or a favorite song. As you breathe, send the energy of these favorite things into the colored shape. See it grow larger and more vibrant.
Make sure the shape is three-dimensional.
Keep breathing happy, joyful things into your colored shape. Think about a favorite animal, or an accomplishment that makes you proud.
Finally, as you inhale, breathe this large, colorful, glowing shape into your heart.
This energy of happiness with fill your heart with joy and healing.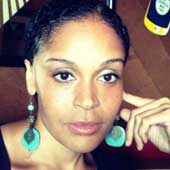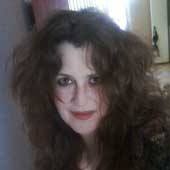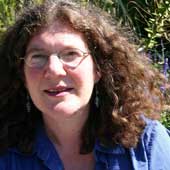 What's up at the Psychic Café?
Last Sunday, July 21st, was a special day at the Psychic Café. The topic was "Tarot Innovations." The show featured interviews with four tarotists, each of whom are doing something innovative with tarot.
Our guests were amazing.  Karen Bentley is combining theatrical improv with tarot.
Shaunna Peterson is both a tarotist and sign language interpreter and reads for the deaf community.
ReeNee Cummins is using her scientific background to track the synchronicities in tarot that we all know exist.
Dax Carlisle is the founder of two unique groups, Tarot Guild and Rainbow Psychics.
Watch the show in archive, and see the full, unedited interviews with Dax and ReeNee.
The next three weeks will feature encore presentations of some of my favorite Psychic Café Episodes.
On July 28th we will see my first interview with Dax Carlisle.
On August 4th we will see a very early show featuring Kianga Jinaki and String Band.
On August 11th we will see a more recent show. "Creating a Better World" features short interviews with twelve different people all answering the same question. "What is one thing we can do to create a better world?"
I'll be back with a great new live show on August 18th when Jennifer Seick will be my guest.
For more information visit the Show Info page, and don't forget to like us on Facebook!
Christiana in Connecticut and Pennsylvania
I will be in Connecticut from August 2 to August 10.
All psychic party timeslots have been booked. To those of you that have booked parties, thank you! I can't wait to see you.
I do have a few timeslots available for housecalls if you and a friend would like a reading in your home. Please call me to schedule yours.
For my friends in Pennsylvania, I do have a couple of opportunities to do parties for you. Call me or email me if you are interested.
My phone number is 561-655-1160. I am looking forward to visiting the Northeast!
Your One-Card Weekly Reading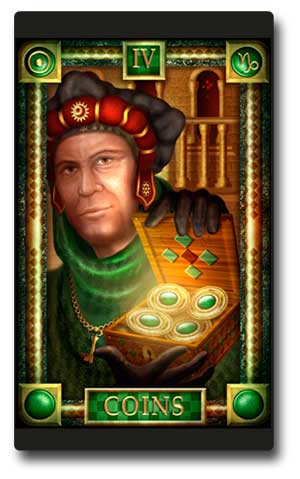 Your one-card reading for the week is the Four of Pentacles.
Many people call this the "Miser's Card." Sometimes the Four of Pentacles indicates a selfish attitude or selfish behavior.
The Four of Pentacles can indicate fear, jealousy and possessiveness.
The Four of Pentacles can also indicate a legitimate limitations of resources. Time, money and energy may be at a premium.
This card asks you to explore the reality of your resources, and act accordingly. If resources are limited you may need to protect yourself and be careful to preserve what you need.
But if you are acting out of fear instead of reality it might be time to share more freely.
Professional Tarot Mentoring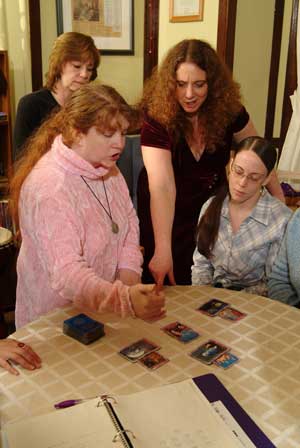 Did you know that I am available to mentor tarot professionals and would-be tarot professionals? I offer affordable mentoring sessions via Skype.
If you want to add tarot skills to an existing metaphysical practice, or if you want to learn to read tarot at a professional level, or if you are a tarot professional looking to expand you skills and your business, I can help!
I tailor your mentoring sessions to your needs. We can work on interpreting and understanding the tarot cards, psychic development, professional reading skills and strategies, dream interpretation skills and even mediumship skills!
I can offer advice on ways to build your business as well as your skills.
Mentoring sessions are affordable and scheduled at your convenience. We can meet as little or as often as you need.
Whether you are a beginning student with a goal or a consummate professional with a desire to grow, mentoring with me might be just the thing you need.
To arrange a mentoring session, call me at 561-655-1160. We will discuss your goals, your perceived challenges and your accomplishments.
From there, we will begin a program that is custom-made for you!
Upcoming Events
Thursday, July 25, 9 pm
Pagan Propensities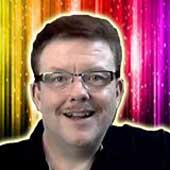 Christiana will be a guest on Tidal Miller's show on the Para Encounters Network.
Tidal has had some interesting guests on his show, including Selena Fox.
See what questions he has for Christiana!
Sunday, July 28, 9 pm
Christiana's Psychic Café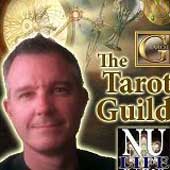 Join us for an encore presentation of the Psychic Café.
We'll be replaying our show from March 10th, 2013 with Dax Carlisle and music from Robin Renee.
Visit the Psychic Café page for more information.
Sunday, August 4, 9 pm
Christiana's Psychic Café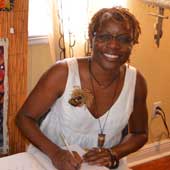 This week our encore presentation will feature Kianga Jinaki and String Band.
First aired on February 17th, this show remains one of my very favorites. It's about creativity and following your dreams.
Visit the Psychic Café page for more information.
August 5th – 8th
Private Readings in Connecticut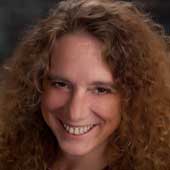 During my trip to Connecticut I have a limited number of days where it would be possible to schedule a private reading or house call.
If you would like to have a reading while I am in Connecticut please call me at 561-655-1160 and we will make it happen!
Sunday August 11, 9 pm
Christiana's Psychic Café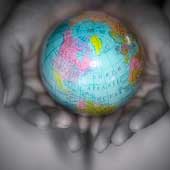 Our final encore show will be "Creating a Better World."
This show first aired on June 2nd, 2013. I asked twelve people to tell me one thing we can do to create a better world.
Their answers are poignant, smart, and doable.
Visit the Psychic Café page for more information.
Tarot by Christiana Gaudet
christiana@tarotbychristiana.com
561-655-1160
866-99TAROT (866-998-2768)
Skype: tarot.radio
Private readings and instruction are available by appointment. 
Tarot parties and private readings at your home or office are available throughout Florida. Call for more information or to schedule your event.