Tarot by Christiana Weekly Newsletter 2/6/2013
Tarot by Christiana Newsletter
Create
Some people think of themselves as creative. Others don't. But here's the truth. The ability and the need to create is part of human nature. We are all creative. It is just a matter of figuring out where your creativity lies.
It's important to remember that creativity is not just about singing a song or knitting a sweater. There are many ways in which we create.
Creativity is related to the element of Fire. Fire is also about our vitality and our life force. When we are inspired to create we strengthen ourselves physically, emotionally and spirituality.
Today, and every day, honor that you are a creator. Use creative thought in problem-solving. Use creative thought in recreation.  Open up to the inspiration of the Universe!
Using Tarot to Inspire Creativity
There has been a lot of conversation around ways to use tarot to inspire writers, artists and other creative folk. Fashion designers have been showing tarot-inspired clothing and perfume lines. One creative tarot student I know baked bread in the shape of the four tarot suit icons for a Tarot Picnic! Everyone seems to agree - tarot is inspiring!
Anyone can use tarot for inspiration. If you are writing a novel you can pull cards to define everything from characters to plot lines. It is helpful to simply say "What should happen next?" And pull a card or two.
If you are not sure where your creativity lies, simply ask the cards. Ask "In what way am I creative?" and pull a card. Or ask "What can I do to stimulate my creativity?" and pull a card.
Being a spiritual book of seventy-eight illustrations, tarot is inherently a tool of creativity.
To Be an Instrument of Peace
Our One-Card reading this week is one of my favorite cards, The Hermit. Often we associate the Hermit with Saint Francis of Assisi.
The lore and wisdom of Saint Francis extends beyond Catholicism. The prayer of Saint Francis was published first in the United States by Quakers. It was used during WWII as a protest for peace.
In the prayer, Saint Francis asked to be made an instrument of peace.
He then goes on to describe the ways in which this can happen.
As an interesting exercise, use tarot or another divination tool to answer these two questions, inspired by the prayer of Saint Francis.
Simply ask each question and pull a card, or a few cards, to receive your answer.
Of what am I an instrument at the present time?
What do I need to do to become an instrument of peace?
Then, take some time to reflect on the words of Saint Francis.
Lord, make me an instrument of your peace,
Where there is hatred, let me sow love;
Where there is injury, pardon;
Where there is doubt, faith;
Where there is despair, hope;
Where there is darkness, light;
Where there is sadness, joy.
O Divine Master,
Grant that I may not so much seek to be consoled, as to console;
To be understood, as to understand;
To be loved, as to love.
For it is in giving that we receive.
It is in pardoning that we are pardoned,
And it is in dying that we are born to Eternal Life.
While much of the prayer is easily quite nondenominational and ecumenical, the last line speaks specifically to the Christian concept of heaven. Many religions teach such a concept, but not all.
But what if we look at that last line symbolically? In addition to the promise of heaven, this line speaks of a deeper truth. When we let go of that which no longer serves us we are able to fully live, and to live in peace. 
Christiana's Psychic Café
On February 3, Anita Perez joined me as we celebrate "Tarotbowl 1," an interesting and metaphysical alternative to the Superbowl.
Interestingly, we were joking about the technical errors that caused the blackout during the game. We must have enraged the gods of football because we had some technical trouble too!
Despite those problems we had a great time together. Tidal Miller joined us by phone to discuss the Blog Talk Radio shows he and Anita are producing.
We had an interesting conversation about the Pagan community and the celebration of Imbolc.
We did a two-card tarot reading in honor of Imbolc and, in honor of the Superbowl, we talked about predicting sports outcomes with tarot. If you would like to watch Tarotbowl 1 in archive, find in on the Tarot Topics Community News Site.
Coming up on February 10 is our Valentine's Day Special!
We'll check in with fashionista Dominique Tate to discover what the fashionable girl will be wearing for the Valentine's Day date. Then we will talk with Ariana Lightningstorm who is one of only seven certified lipsologists in the world. A lipsologist is a lip print reader. We will learn about lipsology and see how it works when Ariana reads my lip prints!
Of course, if you have questions about your love life feel free to call in and get a free psychic reading! Tune in to watch the show on February 10, 9 pm Eastern on the Para Encounters Network.
Your One-Card Weekly Reading
This week your One-Card Reading is the Hermit.
The Hermit expresses the archetype of the "wise old man" or "Father Time."
The Hermit has climbed alone to the top of the mountain and now holds the lamp of wisdom for all to see.
This card can indicate loneliness. It can also indicate higher levels of education. It is a card that advises patience, wisdom and study.
The important thing to remember is this. We cannot achieve great wisdom in the presence of 
others. It is something we must do on our own.
This card reminds us to carve out time for retreat, reflection and meditation.
It also reminds us to seek the advice of those who are wise. And, when we have developed our own wisdom, we must share that knowledge with others when asked.
The Week in Review
This week Christiana participated in the Tarot Blog Hop. Read her offering, Divining with Brigid and then follow the links to read the posts of the other bloggers as well.
On Christiana's 78 Magickal Tools blog on PaganSquare read Tarot Magick for Brigid's Day.
Christiana is featured on Brigit Esselmont's Biddy Tarot blog this week as one of the twelve most notable tarot professionals in the world sharing some advice for new professional tarot readers.
On the Dark Forest, Christiana blogs about popular culture and the "real winner" of the Super Bowl. Read Why I Love Beyonce.
On the Tarot Topics Community Blog Christiana discusses The Five of Pentacles.
Upcoming Events
Sunday, February 10, 4 pm EST
Free Webinar
Love Magick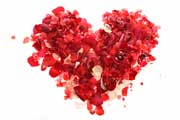 Join us for a free webinar right before Valentine's Day to explore ethics, techniques and types of love magick!
What can you do to attract a lover, heal from a broken heart or put the spice back into your love life?
Find out at this fun and exciting webinar! To join, simply visit the event listing on the Celebrate Spiritual Growth website.
Sunday, February 10 9 pm EST
Christiana's Psychic Café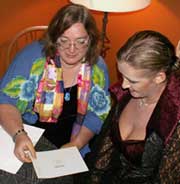 This week at the Café we will have two guests. We will check in with fashionista Dominique Tate in the Artist's Corner. Dominique is the owner of BouChic, an exciting new boutique in Atlanta. She will show us some fashions from emerging designers and talk about what it takes to run an independent shop.
In our Magick and Mayhem section you'll meet Ariana Lightningstorm. Ariana is a certified Lipsologist. She is a psychic who reads lip-prints!
Don't miss the fun! Tune in by visiting the Para Encounters Network Sunday at 9.
Monday, February 11, 2 pm EST
Premium Member Tarot Guild Class with Christiana
Tarot Trends and Blends
Learn a few of the tarot reading methods that have made Christiana Gaudet a recognized talent in tarot. With these techniques you will be able to give a more complete and detailed reading.
This class will be available live on-line and in archive for Premium Members of the Tarot Guild. For more information please visit the Tarot Guild class listing.
Sunday, February 17, 9 pm EST
Christiana's Psychic Café
This week Kianga Jinaki joins us in the Artist's Corner. Kianga is a textile artist working with traditional African themes and documenting the history of the African American experience.
In Tarot Talk we will learn about different types of tarot decks and traditions. It all happens on the Para Encounters Network.
Thursday, February 21, 7 pm EST
Free Webinar
Global Tarot Circle
If you are interested in tarot this is the place for you! Join us for an informal tarot workshop and fellowship. Our topic for this month is Love and Tarot. Find out how the cards speak about love, and how to use tarot to read about relationships.
For more information visit the event listing on the Tarot Circle website.
Celebrate Valentine's Day with a Tarot Reading
A gift certificate for a phone or Skype tarot reading with me is a great way to celebrate Valentine's Day.
Give a reading to your sweetheart!
A reading is a thoughtful gift to help a single friend find love. Couples can celebrate the holiday of love by having a Couples Reading via Skype, even if they are in two different parts of the world!
To find out what I can do for you for Valentine's Day, simply give me a call at 561-655-1160.