Tarot by Christiana Weekly Newsletter June 13, 2012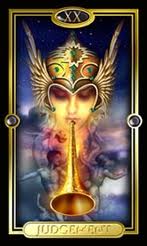 Hello everyone!  Happy Father's Day to the Dads, and congratulations to the grads.  This week I have a very special announcement about changes I will be making to my business.
After four happy and successful years, I will be closing my office in the Harvey Building at the end of June.  In August, we will be relocating our home to the greater Fort Lauderdale area.  The reasons for this move are numerous.  Perhaps most importantly, this move will allow more time for travel, and more time to write.
The advance reviews on my new book, Tarot Tour Guide, have been excellent.  This move will allow me more time to promote the book, and teach classes based on the book. The book will become available in July.
The success of my Webex classes and Skype and phone readings has really proven to me that I can work from anywhere.  As much as I will miss my office in downtown West Palm Beach, I am excited to expand my on-line offerings, and to find new venues for classes and readings throughout South Florida.
I will still be available in Palm Beach County for parties, house calls and occasional classes and events.  I will be available throughout Broward and Miami-Dade counties for the same things.  If you know of venues for classes, workshops and presentations anywhere in Florida, please let me know!
The number of classes available through Webex will increase over the next few months.  As always, telephone and Skype readings will be available at your convenience.  My phone numbers, websites and email will remain the same.
I will also soon be announcing some new venues for classes, including the meeting room at Panera Bread in West Palm Beach.
If you would like one last reading in the Harvey Building, please schedule it now!
For those of you who have had readings and attended classes and events at the Harvey Building, I am so grateful for your participation.  We have had some wonderful times.  While the venue will change, there will still be many opportunities for us to gather together for fun, fellowship, insight and spiritual growth.
This week I have two events planned.  I would also like to give you advanced notice of an event I am doing on Saturday, June 23 at 2 pm.  I will be returning to Pearl Rauberts in Loxahatchee for a Midsummer Psychic Gallery.  Please read more about this event on my new Celebrate Spiritual Growth website!
Events this Week
Premium Webinar
An In-Depth Journey into The Major Arcana – Emotional Balance
Sunday, June 17, 5 pm
Join us as we contemplate cards 8-14 of the Major Arcana, and discover how these cards hold the key to emotional healing, growth and balance.  For more information, login and registration, visit here.
Tarot Circle at Unity Church in Jupiter
Monday, June 18, 7 pm
550 Bush Road, Jupiter
Please join us for tarot fellowship, fun and study.  For more information, visit here.
This Week's One-Card Reading
Your One-Card Reading for the week is Judgment.  This is a very spiritual card, with many possible meanings.  The Judgment card cautions you to let go of the past, and to be open to a bright new future.  It encourages you to be open to hearing the voice of the angels.  Pay attention to the signs around you, Spirit may have a message for you.  When you see the Judgment card, take it as a vote of confidence.  You have accomplished many things.  Now you are on your way to new projects, and new possibilities.
This Week's Special Read
I would like to invite you to read a post from my personal blog, Tarot Trends.  This post is called "Creativity without Fear."  In it I discuss the importance of creativity, and some of the things that hinder us in our creativity.  I hope you enjoy it.
As always, I am available by telephone at 561-655-1160 or 866-99TAROT.  I hope to see you soon!
Christiana