Tarot by Christiana Weekly Newsletter 3/27/2013
Tarot by Christiana Newsletter
Wednesday, March 27, 2013
Renewal!
Whatever tradition you observe, now is the season of new life! As we observe holidays and watch the signs of spring, we ourselves have the opportunity for renewal.
No matter how old we are, we can, in a sense, become young in the springtime.
An ancient principle is "As Above, So Below." This principle manifests itself in many ways. One example is how we as people react to seasonal changes. As the earth is renewed, we ourselves can use that abundant energy for our own renewal.
This can be a powerful time for healing, change and new opportunity if we open ourselves to the energy of the regenerating earth!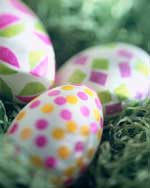 What's in your Easter Egg?
I love those brightly colored plastic Easter eggs that you can put small toys and candy in!
They are fun to hide and fun to hunt! It is even more fun to find the surprise inside!
Here's a fun tarot exercise in honor of the plastic Easter egg.
Shuffle your cards and simply ask, "What's in my Easter egg?
Pull one card to let you know what surprise might be coming your way!
If the card you get is less than pleasant, let it describe a situation from which you are healing.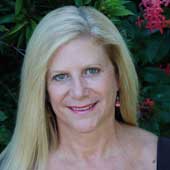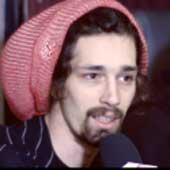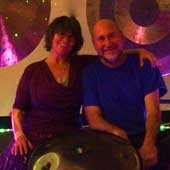 What's Up at the Psychic Café
We had so much fun at the Psychic Café on March 24. Our guest was Barbara Magro, author of "Recipes to Remember: My Epicurean Journey to Preserve my Mother's Italian Cooking from Memory Loss." We had an inspiring conversation about family, culture, food and spirituality.
I shared a quick idea for Ostara rituals. We welcome a young band to the Psychic Café, Blessed and Gifted.
The song they performed inspired me to create a new three-card tarot spread that we performed live. People in the chat room had their cards with them and performed the spread as well. It created a fascinating exploration into the world of tarot, as well as offering some great personal insights for the people who participated. You can watch the show in archive on the Tarot Topics News site.
This Sunday, March 31, is Easter Sunday, but the Psychic Café is still open! We will welcome Michelle and Ron from the Gong Temple to discuss the healing nature of sound, and healing techniques that involve musical instruments.
It's sure to be a fascinating conversation, so make sure you join us at Christiana's Psychic Café!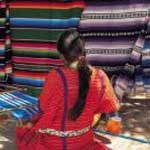 The Week in Review
This week on the Dark Forest Christiana reviews an exciting new movie, Olympus has Fallen. Check it out if you like fast-paced action films!
On the Tarot Community Blog Christiana encourages tarot readers to create their own tarot spreads. Read Is There a Tarot Spread for That?
On her personal blog, Tarot Trends, Christiana explores lessons of change and acceptance in the Major Arcana. Read Acceptance and Change.
On her 78 Magickal Tools blog on PaganSquare, Christiana discusses how, in tarot, magick and divination can happen at the same time. Read Divination and Magick Together.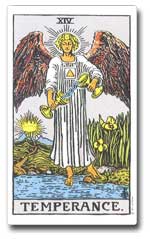 Your One-Card Weekly Reading
Your one-card reading this week is Temperance. Temperance is often shown as an angel mixing two cups together. She moves patiently, and with caution, never spilling a drop.
Temperance is the card of art, time and alchemy.
The message of Temperance is simple. Nothing in life is perfect, but if you mix things together, you can find the perfect blend.
Here is a poem I wrote about Temperance, from my 78 Poems Project.
Water poured from cup to cup, and metal turned to gold
Sorrow turned to patience, and ego turned to mold.
One foot on the water, another balancing on land
Not a drop is spilt by the angel's gentle hand.
Caution guards the recipe, stirring grace with balance
Art and time make alchemy with these select ingredients.
Change forged of disappointment, mingling with hope
Built on tragic lessons learned that gave us skill to cope.
Expectation and assumption gone, accepting what will be
Still the angel blends the cups, creating perfectly.
Perfect are the cups' contents, and perfect is the measure
And perfect are the woes and joys, blended into treasure.
Upcoming Events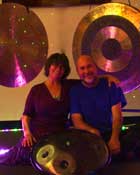 Sunday March 31 9 pm EDT
Christiana's Psychic Café
Join us as we explore healing with sound! Our guests will be Michelle and Ron of The Gong Temple.
We will discover how the vibrations produced by large gongs can have profound and penetrating effects on the mind and body.
Tune in on the Para Encounters Network.
Tuesday, April 2 7 pm EDT
Premium Webinar
An In-Depth Journey in the Major Arcana - The Material World
Tarot Grandmaster Christiana Gaudet has developed a system for learning and understanding tarot that will help each tarot seeker use the cards not only as potent tools of divination, but also as tools for spiritual growth.
With this system, card meanings are easy to remember, and the lessons of each card are easy to understand.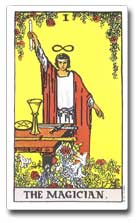 Beginners will develop a solid foundation for their tarot study. Experienced readers will discover new ways to utilize tarot.
Christiana's virtual classroom is accessible using your computer or your telephone.
In this on-line presentation, students will develop an understanding of The Fool, and the first seven cards of The Major Arcana. These cards hold the secrets of career, relationships and personal mastery.
Students will learn the astrological, numerological and elemental associations for each card. Students will contemplate the Fool's Journey through these seven cards, and discuss how the lessons of each card apply to common experiences in modern life.
The first seven cards are a map for mastering the material world. Students will learn the invaluable philosophies inherent in these cards.
Armed with a complete understanding of each card, students will have an easy time learning ways of interpreting the cards when reading for themselves and others.
For more information and to register for this webinar visit the Event Page on the Continuing Education website.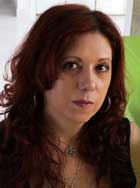 Sunday April 7 9 pm EDT
Christiana's Psychic Café
Helene Martz will be our guest.
Helene joined us for our St. Patrick's Day Show and impressed everyone with her energy and wit.
Helene is a Pagan teacher and psychic tarot card reader. Helene is outspoken, funny and dedicated to her craft.
You may not agree with everything she says, but you'll love the way she says it!
Join us on the Para Encounters Network.
Monday April 8 7 pm EDT
Free Webinar
Global Tarot Circle

Join us for a free, online, informal tarot gathering appropriate for tarot enthusiasts of all levels of experience.
Each month we gather to share readings, interpretations, knowledge and fellowship.
In honor of April Fool's Day, our topic will be the Fool. We will discuss our favorite Fool images, ways of interpreting the Fool and our own experience of the Fool's Journey.
To join the fun, visit the Event Page on the Tarot Circle website.
Thursday, April 11, 7 pm EDT
Premium Webinar
Sharing Wisdom - Reading for Others
Tarot hobbyists, professional readers, and those somewhere in between, all share something in common. We all want to give the best readings possible to clients, family and friends.
In this online presentation, Christiana Gaudet will guide you through each step of performing a great reading. She will help you discover your personal style as a reader, and discuss some common pitfalls and ways to avoid them. She will give you insight in how to derive the most specific information possible from each reading.
Christiana's virtual classroom is accessible using your computer or your telephone.
For more information and to register, visit the Event Page on the Continuing Education Website.