Tarot by Christiana Weekly Newsletter 6/12/2013
Tarot by Christiana Newsletter
          June, 12 2013      
June Celebrations
We have a lot to celebrate in June! Father's Day is a time to honor the special men in our lives. June is also the time to celebrate the accomplishments of students. The honoring of "Dads and Grads" has become a tradition in the United States.
Fathers, uncles, grandfathers and mentors are so important to us, both in our childhood and adulthood. They deserve our honor and recognition not just on one day, but every day.
Graduating students are at a time of transition. We celebrate their accomplishments and hold them in our prayers as they take the next step in life.
Whatever it is we are celebrating at this time of year, now is a time to be grateful. We are grateful for the strong men who support and inspire us. We are grateful for the ability to take next steps in our lives. We area grateful for the accomplishments of our children.
We are happy to be able to celebrate these things in the beautiful month of June!
June Tarot Circle Recap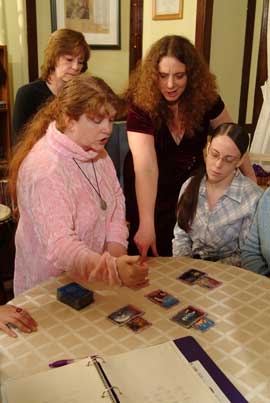 Webex is a convenient platform for on-line Tarot Circle because of its versatility. Some people call in on the telephone, others log in on computers, tablets and smartphones. Some people use their mics and cams, others simply listen to the presentation and chat in the chat room.
This versatility is especially important when we share readings with each other, as we do every month. We are able to have attendees read for each other verbally. We are also able to do one-on-one readings, group readings and discussions in the chat room.
The process of doing readings in Tarot Circle is helpful for a number of reasons. It is an opportunity for newer readers to hone their skills and for experienced readers to share their skills. It is an opportunity for us all to see the infinite number of ways readers can use tarot to derive important and helpful information. And, of course, the folks who receive the readings are happy to get the information they need!
This was the case when Tarot Circle met on June 10th. The three readings we performed in the beginning of our meeting were very helpful in illustrating techniques pertinent to our topic, Card Combinations.
As we delved into our topic, we discussed the many ways cards can combine with each other. Sometimes interpreting card combinations is about analyzing trends in distribution. Sometimes the combinations are graphic – we see how the pictures interact with each other. Sometimes we combine the cards in sequence to tell a story.
Global Tarot Circle has many purposes. It is a time for readers to gather together in fellowship. It is a time to share readings and learn new perspectives on tarot. It is a time for experienced readers to share ideas with newer readers.
Our Next Global Tarot Circle meeting will be July 23 at 7 pm EDT. To join the fun please visit the event listing on the Tarot Circle website.
Christiana's Trip to Connecticut
I am planning to be in Connecticut from August 2nd to August 11th this summer.
I will be offering a limited number of psychic house parties. If you would like me to visit your home and read for you and your friends in person, please contact me shortly to arrange your date – the calendar is filling up quickly!
I am really looking forward to visiting Connecticut – it has been many years since I have had the opportunity to be there!
A Graduation Tarot Reading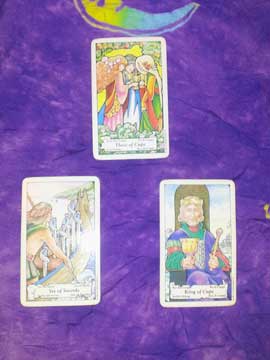 This is a great three-card reading for anyone getting ready to take a next step in life.
Shuffle, and think about your time of transition and your goals.  Arrange the cards in a pyramid. The bottom left card will signify what you have accomplished. The card to the right will signify what you are going to do with your past accomplishments. The card on top will reflect your overall path.
Remember that we are always moving forward, always completing accomplishments and seeking the next advancement in life. This spread is appropriate at any time you feel you are in that place of transition. It is especially appropriate at a time of academic graduation or professional certification.
The Week in Review
On the Dark Forest, Christiana reflects on her recent attempts at gardening. Read Lessons from the Garden.
On the Tarot Topics Community Blog Christiana shares some helpful hints for serious tarot readers. Read Six Things to do When a Card Doesn't Make Sense.
Also on the Tarot Topics Community Blog our own Linda Moore shared another fabulous post in her "Tarot in my Life" blog. Read Ten of Swords- Get Over It! I must say, Linda, I couldn't agree more, and I love the Eagles quote!
On Tarot Trends, Christiana's personal blog, read a list of Christiana's favorite tarot decks for professional reading.
On the Tarot Topics Community News site, read Christiana's review of the recently rereleased Ancestral Path Tarot. There is a video review there, too.
On Christiana's 78 Magickal Tools blog on PaganSquare, read Invoking Deities with Tarot.
From Around the Web
Read Arwen Lynch's review of Jeanne Fiorini's Book, Tarot Spreads and Layouts.
Read a numerology forecast for June 2013 from AskZuri.com.
From Biddy Tarot, read the Top Ten Tarot Cards for Mental Health Issues.
Honoring our Ancestors in Spirit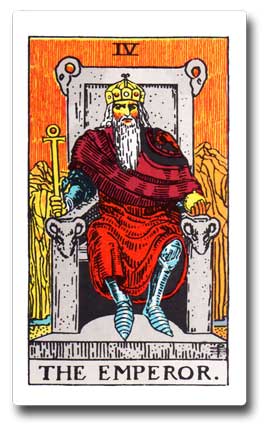 Father's Day can be a poignant time for those of us with male family members in spirit. Sometimes we look at photos, remembering our times together. Sometimes we visit gravesites.
Tarot can help us connect and communicate with our loved ones in spirit. Sometimes it happens without our even asking. The Emperor and the Kings often show up in readings as an indicator that a male loved one in spirit is watching over us.
It is also a valuable technique to simply shuffle your cards and focus on a loved one in spirit.
Ask that person a question like "What do you want me to know?" and pull a few cards. See what message comes to you when you look at the cards.
You will be amazed by the direct way in which those in spirit can communicate with us when we ask them.
What's up at the Psychic Café?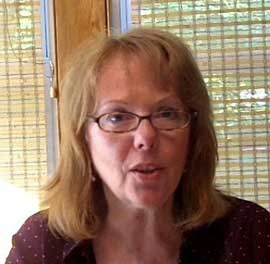 Last week, June 9th, we had a great conversation with Jeanne Fiorini of TarotWorks.
Jeanne is the author of the book "Tarot Spreads and Layouts" and the producer of a treasure trove of free "Tarot Tips" videos on YouTube. 
You can enjoy this fun, informative show in archive on the Tarot Topics news site.
This coming week, June 16th, I am excited to welcome Barbara Graver of the New Age Review.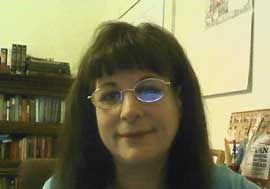 Barbara's interests, areas of expertise and contributions to the metaphysic community are legion.
We will talk about everything from psychic development to ghost-hunting.
I will also be showing my video review of the recently rereleased Ancestral Path Tarot, so make sure you tune in!
To join us, visit the Show Information page, and make sure to Like Christiana's Psychic Café on Facebook!
Gifts for Dads and Grads
Gift Certificates for readings with Christiana are available for your favorite Dad or Grad!
Show the people in your life how special they are by giving them a unique gift they will never forget!
Simply call 561-655-1160 to arrange yours!
Your One-Card Weekly Reading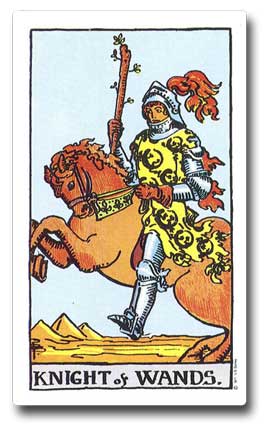 Your one-card reading this week is the Knight of Wands.
The Knight of Wands is the "seeker of fire." Knights are always seeking, pursuing and moving toward things. Wands represent the element of Fire, which is our creativity, our passion, our motivation, our spirituality, our humor and our ability to have fun.
In the Waite image, the Knight of Wands is clearly riding on a horse that is way too small. This suggests a goofiness or a sense of humor inherent in this card. Perhaps there is some tendency to be impetuous, or to charge ahead without knowing the details, or to start a task without having the right tools.
The Knight of Wands in a reading might indicate you or someone you know. It might be a younger person, or a person in pursuit of something about which they are passionate.
The Knight of Wands might also come up to encourage you to pursue your passions, your creativity, your ability to have fun and/or your spiritual path.
Upcoming Events
Wednesday June 12, 7 pm
Free Webinar
Magick with Symbols and Images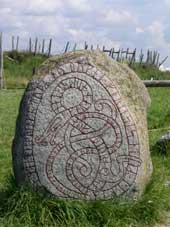 For centuries, symbols and images have been used by many cultures in magick to create healing, prosperity and other positive results.
Join us for an exploration of magickal symbols and images.
You will learn to find magickal symbols and images around you, and use them to manifest wonderful things in your life.
If you have tarot cards, runes or other symbolic tools, have them handy for this workshop.
Some of the topics we will cover include tarot magick, bindrunes and creating your own magickal symbols.
For log-in information visit the event listing on the Celebrate Spiritual Growth website.
Sunday, June 16, 9 pm
Christiana's Psychic Café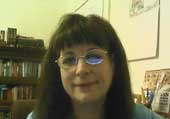 Our guest will be Barbara Graver, editor and host of the New Age Review.
Barbara is the founder of the Northeast Pennsylvania Metaphysical Society.
We'll discuss physic abilities, paranormal activity and metaphysics!
For more information, visit the show page on Facebook!
Tuesday, June 18, 7 pm EDT
Premium Webinar
Personal Tarot – Reading for Yourself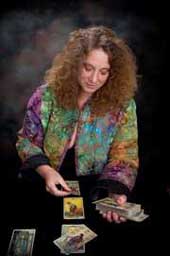 This class is designed for serious tarot students who want to develop their tarot skills.
Self-reading is the best way to learn to understand the cards. It is also an important practice for personal and spiritual growth.
Christiana's virtual classroom is accessible using your computer or your telephone.
This online presentation will teach you good practices for self-reading.
You will be able to identify and interpret your specific personal cards. You will be able to use self-reading to enhance your tarot studies.
Christiana will help you explore specific techniques for self-reading that will help you derive all the information you need.
For registration and log-n, visit the event listing on the Continuing Education Website.
Saturday, June 22, 2:30 pm
A Midsummer Psychic Gallery with Christiana Gaudet
Pearl Rauberts' in Loxahatchee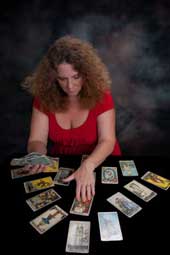 Enjoy a special in-person event with Christiana Gaudet at the home of healer and teacher Pearl Rauberts.
The summer solstice, also known as midsummer or Litha, is a time to celebrate every part of life, from work and family to romance and creativity.
What better time could there be to gather together to hear personal messages from Spirit?
Psychic Tarot Grandmaster Christiana Gaudet will return today for an afternoon of fellowship.
Within sacred space, Christiana will reveal information for each person. You will have the opportunity to ask questions and receive guidance about all aspects of your life. You may even receive a message from a loved one in Spirit!
Those who have attended galleries with Christiana before describe them as inspiring, entertaining and amazing. Each person's reading is specific and insightful.
Don't miss this opportunity to receive the information you need to live your life more fully.
Reservations are required for this event. For more information visit the event listing on the Celebrate Spiritual Growth Website.
Sunday, June 23, 9 pm
Christiana's Psychic Café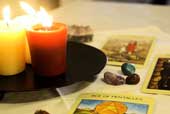 This week our feature is "Divination Exploration."
Christiana and a panel of guests will explore the history, practices and value of divination.
Join us for an entertaining and informative hour!
For more information, visit the show page on Facebook!
Monday, June 24, 7 pm
Free Webinar
The Four Elements and the Minor Arcana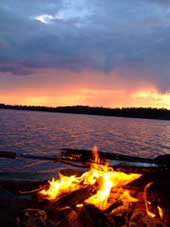 Please join us for a 75-minute-long webinar about the Four Elements (Earth, Air, Fire and Water) and the Minor Arcana of the Tarot.
This class will cover the powers and properties of the four elements, and how they relate to the four suits in tarot.
You will learn ways of interpreting the pip cards and the court cards based on their elemental association. You will learn ways of designing and performing tarot spreads based on the four elements.
This class is appropriate for beginners, and readers of all levels.
For more information and to log in, visit the event page on the Continuing Education website.
Sunday, June 30, 9 pm
Christiana's Psychic Café

Mary Wilson, owner, editor and author at Jupiter Gardens Press will join us to talk about new trends and opportunities in publishing.
This is a must-see for any aspiring authors.
Mary is a Pagan tarotist writer with a penchant for romance who has found a way to make her dreams, and the dreams of others, come true.
Jupiter Gardens Press also has an adults-only imprint, so viewer discretion may be advised.
Visit the Psychic Café show page for more information. 
Tarot by Christiana Gaudet
christiana@tarotbychristiana.com
561-655-1160
866-99TAROT (866-998-2768)
Skype: tarot.radio
Private readings and instruction are available by appointment. 
Tarot parties and private readings at your home or office are available throughout Florida. Call for more information or to schedule your event.