Sweet Ginger Not Sweet Enough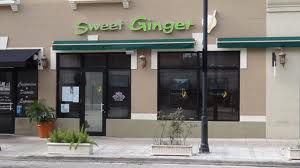 It is funny how two people can have incredibly different dining experiences in the same restaurant at the same time.  My friend and I both love Asian food.  Last night we decided to try Sweet Ginger Asian Bistro in CityPlace, West Palm Beach.
I immediately loved the atmosphere, décor and humungous menu.  I love choices, so the heavy multi-page tome of dining options made me very happy.  The menu primary consists of sushi, Thai and Chinese cuisine.  Hmmm… that's all my favorites.  What to try?
Based entirely on my mood at the time, I went with Thai. I chose the green veggie curry.  My friend went Chinese with spicy beef and broccoli, sweet and sour soup and a detour to Japan for a seaweed salad.
The food came quickly, and was well presented, although I thought our server was a little rude.  While ordering I asked if I could substitute my house salad for a seaweed salad. He didn't offer me an upgrade; he just abruptly said "No!"  I felt like a chastised child. When our meal was over he presented us with the check without even asking if we wanted anything else.
I have to say I really enjoyed my curry very much.  My friend was less pleased.  He found the broccoli overdone, and the soup consistency and flavor not exactly right.  My friend is a connoisseur of Chinese food, and always judges a restaurant by their hot and sour soup.  Sadly, in his eyes Sweet Ginger was not as good as standard cheap Chinese take-out. He did enjoy his seaweed salad though.  Sigh.  That's the salad I was not allowed to have.
Since I enjoyed my meal and liked the place overall, I tried to cajole him into agreeing to another visit at another time, maybe for sushi, which we both enjoy.  His answer was firm.  "If they can't prepare broccoli correctly, I will not trust them with raw fish."  I couldn't find a suitable argument to that, so our quest for perfect Asian food in West Palm Beach continues onward.