Sometimes it is Good to be in Hot Water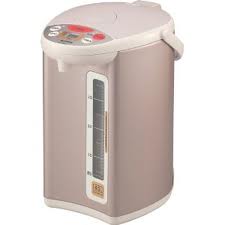 A Review of the Zojirushi Water Boiler
One of our national conversations this summer has been about whether anything that happened in the "Fifty Shades" trilogy would actually happen in real life. I read the books, and I liked them, but that is a review for a different time.
The reason I bring up "Fifty Shades" in conjunction with a water boiler is this. Our heroine, Anastasia Steele, doesn't drink coffee. She, like me, is an avowed tea drinker. Her tea of choice is Twining's English Breakfast. That used to be one of my favorites, too.
In an early show of chivalry, our dark hero Christian Grey stocks the Twining's tea in his kitchen for her. Here is a point of complete non-believability.  Twining's is high-end tea compared to Lipton. For a struggling college student like Anastasia, it is realistic to think that is what her budget can handle. But Christian Grey is loaded. Why wouldn't he stock the world's best tea for Ana? Don't they have Teavana in Seattle? Why wouldn't Christian serve Ana the same lovely tea that the Obamas serve in the White House?
Although I don't have a billionaire's budget, I do love Teavana. Recently I splurged and purchased a Zojirushi Water Boiler from my local Teavana.  At $160.00 it was something I had to think about, but I am so glad I did.
Teavana sells the Zojirushi water boiler specifically for tea, but it is amazing how much you can do with it. I have used it for French Press coffee and a variety of instant "just add hot water" foods. The Zojirushi keeps the water at the specific temperature you set, so it is ready to go at any time. No more waiting for the water to boil, having the water too hot or too cold, or wondering if you left the stove on.
Here's the amazing bonus. In one month of using the Zojirushi for all my hot water needs, my electric bill was reduced by $80.00. So, in two months my water boiler had paid for itself!
The Zojirushi travels easily. It's perfect for the hotel room, college dorm, and RV, as well as the kitchen counter.
The Zojirushi water boiler is available at your local Teavana, or directly through Amazon or the Zojirushi website.