The Magicians: A Review of Two Great Novels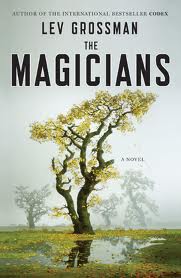 Take one look at Lev Grossman's website and you will discover he is everything a young New York author should be. He is witty, humble and a wee bit sardonic. He wasn't an overnight success – he actually had to work for it.
Although I don't read a lot of fiction, I stumbled on his two-book series (I understand it is soon to be a trilogy). So far, the series is comprised of The Magician, and The Magician King. Both have made it to the New York Times Bestseller List, and with good reason. These are some of the best books ever.
The Magicians is an urban fantasy. True confession – I had never heard of the genre before I picked up the book. Apparently an urban fantasy is a fantasy story in a modern context. It requires some skill from the author to suspend our disbelief. Grossman is that skilled. He had me completely bought in to real human magicians from Brooklyn, and a dragon living in the canals of Venice.
The Magicians is sort of Harry Potter for grownups, with the Narnia Chronicles thrown in. Our protagonist is Quentin Coldwater. At the start of the series he is a high-school senior from Brooklyn.
Quentin is the kind of kid with whom we all identify. Either we were him, or we knew someone like him. He is an intelligent, awkward geek with a crush on his best friend's girl and a penchant for stage magic.
This is one of the reasons these books are so likeable. Grossman creates believable characters with real depth, and puts them in fantastical situations. Quentin's story is a fantasy of magic and mayhem, and a classic tale of a boy's struggle to become a man.
Quentin is recruited to become a student at a secret college of magic. While there are some similarities between Hogwarts and Quentin's school, Breakbills College of Magical Pedagogy, there are many differences, too.
First, since it is a college, there is opportunity for alcohol abuse and sex. That's what college is really always about, right? Second, Grossman dives into the spiritual aspect of magic. One thing that always bothered me about the Harry Potter books is that, beyond the eternal struggle of good and evil and the triumphant power of love, religion and spirituality are largely ignored. The kids celebrate Christmas, but we have no idea what they believe in and how that squares with magic.
In The Magicians, we find there are scientific magicians, Wiccan magicians, and even Christian magicians, all trying to discover the true source and essence of magic itself.
At the heart of the story is Quentin's love of a series of childhood books about a magical world called Fillory. The similarity between the Fillory and Further series and the Chronicles of Narnia is too striking to be happenstance.
But rather than feeling like a cheap copy, the exquisitely detailed Fillory stories felt familiar enough that I inherently understood Quentin's fascination with the childhood books. How would I feel if I had a chance to actually visit actual Narnia?
As with most things in life, what fascinates us does so for a reason. As so it turns out that Quentin's fascination with the Fillory and Further series, and with stage magic, is prophetic and meaningful.
Quentin is a real magician, and on his magical journey he discovers an important fact. Fillory exists.
Along the way, Quentin discovers other things, too. Love, greed, laziness, friendship, sacrifice and the true meaning of heroism are all part of Quentin's magical journey.
In these two books Quentin travels from his boyhood home of Brooklyn to the elite and protected halls of magical academia and all the way to Fillory, with stops in the realms of underground magicians in cities around the world. I can't wait to see where he goes in the next book.