Positive Affirmations - They Don't Always Work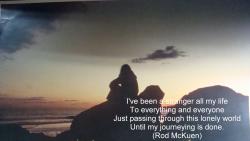 I have seen many postings on social media pages lately about how we should all consider ourselves beautiful. They all say you are beautiful, you are loved, all you have to do to be happy is to love yourself.  Well, I am sorry to say I don't believe that is enough to get one through life.
When you are alone and no one invites you to their activities or events, when no one bothers to call to ask if you are still alive, when no one notices you in a public gathering and you feel completely alone with possibly 200 people around you, when you are with a small group of friends that all seem to be having a conversation that does not include you or your opinion, when no one laughs at your jokes until they are told by someone else, when no one reads anything you may have written until they see something similar from another source, when no one thinks twice about a comment that might hurt you or insult you, when everyone tells you to think positive thoughts as your world is falling apart rapidly, when no one even knows you are living on the edge and slowly being pushed off the cliff because the walls are too steep and you have no other direction to go-----those are times when simply loving yourself is all you have.  It does not matter how confident you are in your abilities. It does not matter how intelligent, witty, and fun you might be. It hurts. It hurts deep down inside your very heart and soul. It is then that you realize just how alone you really are in this world.
There is a difference between being alone, and being lonely, however, they do overlap at times.  You can be very happy in your home, and your surroundings. You can appreciate the few very good friends and family you love and trust. But when that "alone" feeling is carried out into the world, you begin to think you have nothing of interest to offer. You begin to realize you are falling deeper and deeper into the darkness and there is no light at the end of the dark tunnel. You begin to think you are invisible. You begin to believe you have no voice in this world.
There are some people in this world, I believe, who were never meant to be happy. They are so accustomed to being pushed aside for everyone else. They are used and abused. They may be too kind, and too sensitive to ever hurt anyone by expressing their feelings. So they suffer in silence.  All the positive, loving affirmations can never change or mend their hurt. Only their acceptance by the rest of their world can ease their pain. Then, and only then, will all these daily affirmations have a positive effect on their lives and give them hope for happiness.