Hop Won Dinner Club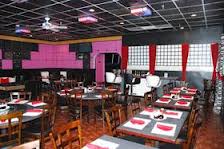 Hop Won Dinner Club and Skinny Bar
4825 SW 148th Ave
Davie, FL 33330
It had been a long time since a restaurant meal delighted me. That's a shame, too, because I really enjoy dining out.
 
The other night my friend and I went to the newly refurbished Hop Won in Davie. Davie is a nice little town filled with equestrians, churches, parks and tropical plant nurseries. We have a Waffle House and an Outback. It's not really a place where you might expect a place like Hop Won.
 
Hop Won is tucked into a plaza with a Publix, a Subway and a few other shops. The first think you notice when you walk in is the décor. Red, black, pink and white are the colors. They work together to create an atmosphere that feels chic, upscale and casual all at the same time. The bossa nova style music playing and the fun selections at the "Skinny Bar" lightened my mood immediately.
 
Hop Won calls itself a "Dinner Club and Skinny Bar." If every about it weren't perfect that would sound pretentious.
 
The menu at Hop Won boasts authentic Chinese food, Chinese American food and some interesting fusion. The skinny cocktails include a Cucumber Martini and a Cosmo with half the calories of a traditional Cosmopolitan.
 
My friend ordered the Churrasco Steak and I had the Singapore Noodles with Spicy Shrimp. The food was presented beautifully and tasted just as good as it looked.
 
The service at Hop Won was friendly and fast. The prices were easy on the wallet. We'll definitely be back.